BASIC

DESIGN:
The basic design is a brow service offered for those who want a quick and clean removal around the eyebrow area, keeping the natural shape look.
The hairs are removed 90% with threaded or waxing (depends on the clients preference) the final precise definition is done with tweezers and scissors for a better definition.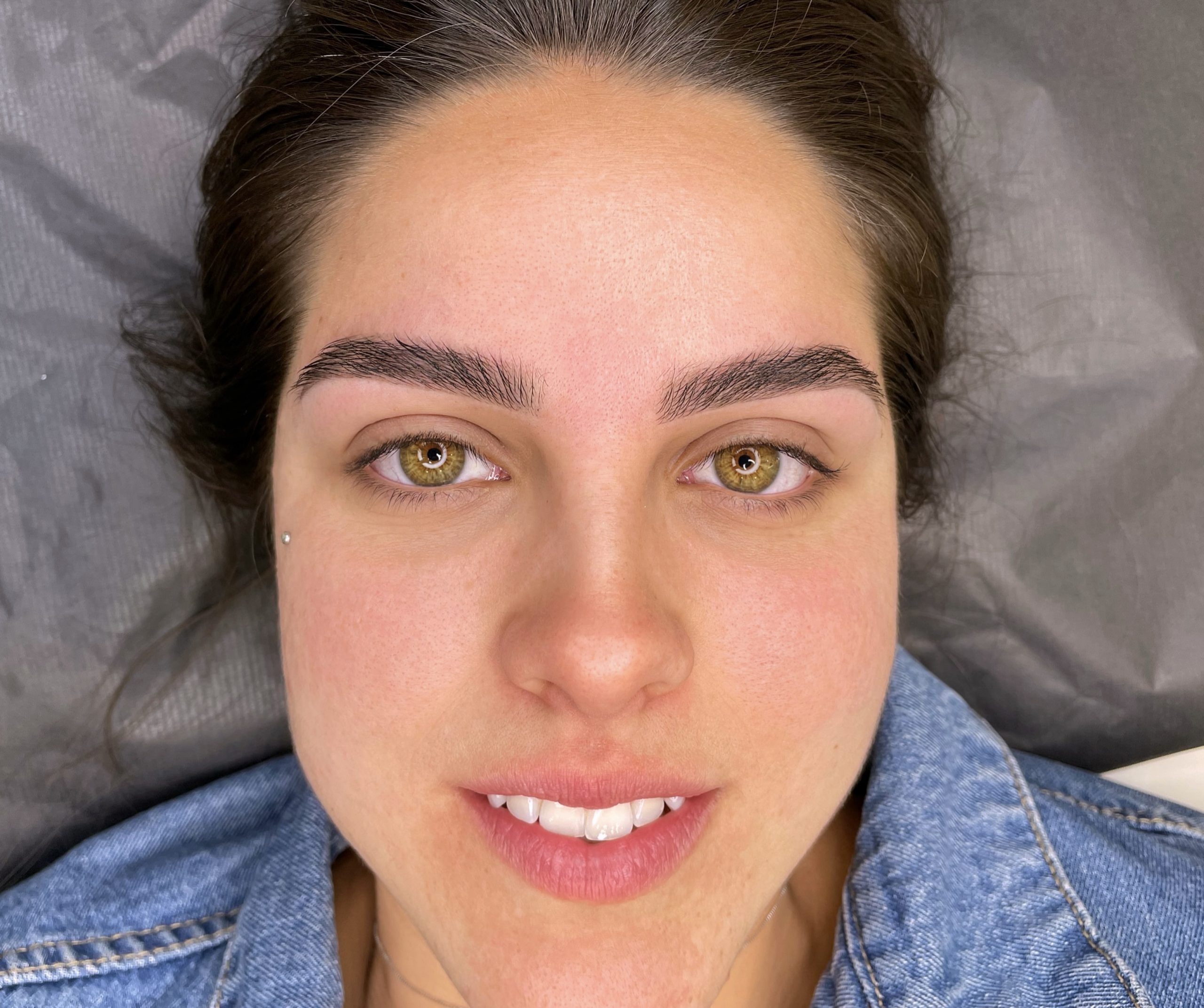 BROWN LAMINATION:
This technique involves straightening and lifting the hairs using a chemical solution, which allows the hairs to have more flexibility to move them into your desired shape, therefore covering any gaps or stray areas.
We ( this or it) can style the eyebrows in a wilder catwalk style for younger and bolder girls and also in a more natural and smooth way for those who just want a more discreet effect.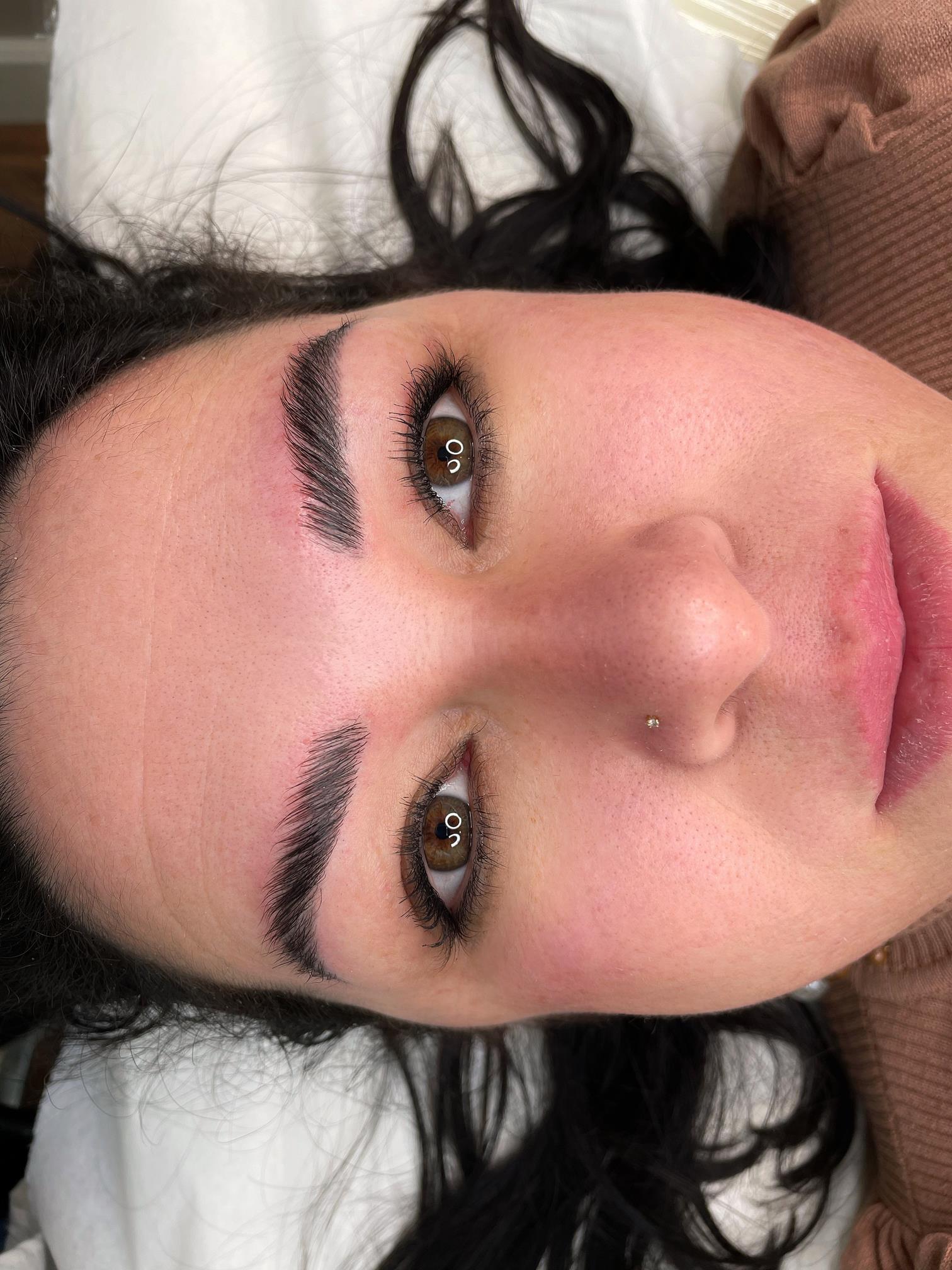 EYEBROWS TINT:
Is the process of applying semi-permanent dye to enhance, shape, and define your brows, it gives the appearance of thicker, more accentuated brows with the goal being to match your natural brow color whenever possible.
HENNA:
Is a form of eyebrow tinting that is used to stain the skin beneath the brow hairs, the purpose of this is to cast a shadow or create an illusion of depth and fullness in the area visually filling in any sparseness.
Henna eyebrow is primarily made of natural plant-based ingredients including Lewsonia Insermis aka – Henna, a flowering plant commonly used to dye skin and hair.
Both Henna and Brow lamination services require a patch test to be conducted at least 2 hours before the treatment.
IMPORTANT:  5 euros will be charged for the patch test
All these services are temporary aesthetic treatments that aim to beautify each client's face in a personalized way, however an allergy test is required for each new client, because despite being rare, some people could develop reactions such as redness, itching and swelling that can last for a few hours/days.
Your safety is my number 1 priority
SOFT

SHADOW:
DESCRIPTION: Shading technique with makeup style, delicately more defined eyebrows, smoky edges and alighter and gradient start for a soft and natural effect.
RECOMMEND FOR: Customers who like to always look good (makeup effect).
IDEAL FOR: Eyebrows with fine to medium hair thickness and homogeneous distribution of hairs.
COMBINATION BROWS:
DESCRIPTION: Hairs in the front and or top of the eyebrows plus the complementary shading of the rest of the eyebrows.

RECOMMEND FOR: Who likes more defined eyebrows but prefers a lighter airy look at the beginning with hairstrokes.
IDEAL FOR: People who like the junction of the two most beloved techniques: wires at the beginning and or top of the eyebrows and shading on the rest of the body and tail of the eyebrows
HYBRID:
DESCRIPTION: Hairs plus the superposition of a soft shading in the form of pixels for a volumization in strategic areas to bring more realism to the eyebrows.
RECOMMEND FOR: Who likes discreet but more evident eyebrows.
IDEAL FOR: Customers who have more specific and evident flaws, where only the hairs cannot supply and correct these spaces, thus requiring more texture in some localized points.
HAIRSTROKES:
DESCRIPTION: Most discreet and realistic technique of all, without much evidence and definition,fixes and fills gaps very naturally. Strands strategically sculpted imitating natural hairs.

RECOMMEND FOR: Those looking for more naturalness and discretion(subtle)as possible, women who use little and basic makeup on a daily basis.

IDEAL FOR: Hair with thickness and volume from fine to medium, homogeneous distribution of hairs with few flaws.
LIPS NEUTRALIZATION:
DESCRIPTION: Technique to correct, neutralize and smooth the tone of dark lips (blue, purplish, grayish and brownish), thus neutralizing the color for a fresher and healthier looking color.
RECOMMEND FOR: Those who have dark lips.
Obs: May this procedure for achieving the satisfaction goals, need more than 1 up to 3 sessions
LIPBLUSH:
DESCRIPTION: Lips that are more colored and defined, but without obvious contour lines,with color saturation from low (liptint) to medium (soft lipstick) and undertone varying between (coral, reddish, pink, mauve/nude) depending client's preference.
RECOMMEND FOR: Women who have lips without definition,pale,non homegeneous color,or just who want lips that are more defined, color healthy, sexy and natural.
Carolina is the best when it comes to what she does. She is not only kind but she treats her clients with love and great assurance. My experience with her has been amazing and my brows can speak for me. She is an artist and she surely does deliver the best results. Keep on hustling Carolina u are very good at what you do ????
Carolina is an excellent professional, she does everything with great attention to detail and is very meticulous. From the beginning she answered all my doubts and explained me in detail about micropigmentation.
I recommend her work with eyes closed, excellent ❤️❤️❤️